WESTON JON BOUCHÉR
The SS Raw Neck Lightweight Sweater
SKU: SS009STN-1
The Short Sleeve Raw Neck Sweater luxuriously laces over your body and creates an immediate sense of sophistication and class while feeling weightless and cozy all at the same time. A short sleeve top has never felt and looked so good. This hybrid of a sweater essentially bridges the gap between wearing a casual "tee" shape while still retaining an upscale look by way of the sweater's premium appearance.
FEATURES:
Meticulous attention to specific sizing throughout the shirt pattern to flatter the physique with a SLIM fit (watch 360° videos below!)

Subtle curved bottom hem to curb bunching at the waist and hips
Super soft, lightweight viscose/cotton blend fabric with moderate stretch range
Raw neck design to compliment the neck, clavicle, upper sternum and raglan shoulder lines
Vegan Suede Main Neck Label Detail

Moderate trunk length to elongate the body and fully combat the premature tendency of sweaters shortening in the torso area after wash cycles
Sleeves are moderately extended to curb bunching up into the armpit
SIZING: All garments are designed to be TRUE TO SIZE but stylistically form-fitting. If you are concerned about a slim fit being too tight, especially in the mid section, consider going up one size. Model pictured is wearing size LARGE and is 6', 205 lbs, and has a 42" chest. Chest measurement is the most relevant factor to consider when selecting your size.
COLORWAYS: Stone † Dusk

COMPOSITION: 60% Viscose † 40% Cotton

VARIANTS: Longsleeve † Shortsleeve Standard Neck

CARE INSTRUCTIONS FOR OPTIMAL PRESERVATION: Do NOT store this shirt by way of a wardrobe hanger, as the fabric is reactive to gravity and stretch. Store the sweater folded to avoid long term hanger effects. After washing, be sure to lay flat and air dry to avoid imprints and deformities from hanging. Shrink factor is minimal. High heat tumble drying is NOT recommended due to the damage and stress it causes on the fabrics. Longer, low heat dryer cycles have much less impact. If you would still prefer a tighter fit after the first hang dry, consider drying on medium heat a single time upon the next wash cycle and then revert back to air dry or low heat cycles from that point on.
SHIPPING: We ship, worldwide!
Customer Reviews
Write a Review
Ask a Question
03/26/2022
Joe P.

United States
I recommend this product
Impressed!
I have been waiting for the short sleeve sweater to become available in my size (I'm 5'7" and 175lbs). I purchased the small and although form fitting, it's not tight. The sweater arrived today and did not disappoint. It's definitely high quality material and really comfortable. I love the low neckline and curved bottom. I placed an order for the stone color as soon as I tried this on. It was worth the wait.
I recommend this product
SS Raw Neck Lightweight Sweater
Amazing product! Fits perfectly, very comfortable and looks amazing! Highly recommend this product.
04/04/2022
Andrew K.

United States
I recommend this product
Great shirts!
Fit and feel perfect!
04/04/2022
Gordon P.

Canada
Awesome
The sweater is so light that feel you don't have anything on. Nice Color and the fit is good. Defiantly recommend this one. Good job!
04/04/2022
Corrin M.

United States
I recommend this product
Does not fit like it's supposed to
The material is great, but unfortunately it was way too short and my husband had to return it. The other shirt he got, the length was fine though.
04/04/2022
WESTON JON BOUCHÉR
Hi Corrin! I'm sorry to hear that the fit didn't work out. This feedback is super helpful moving forward. As I tend to have some customers wanting LESS length in the torso. However I will likely introduce tall sizes as well as big sizes once I can afford to. Everyone's physique is unique, so it can be challenging at times to make every fabric react the same way despite the same measurements I've used on my other tops. I'm going to modify the next production order of this piece for additional length in the torso. Other customers love it as-is at the moment, but I do believe a stop hem will create the intended length since the raw/rolled hem edge shortens it a bit. Thanks again for the feedback, duly noted!
03/30/2022
John T.

United States
I recommend this product
My favorite Tee
The WJB SS Raw Neck sweater tee is by far my favorite going-out tee. Fit / style / comfort / fabric / aesthetics / quality … you name it, it's all perfect. Sizing is true to size. My favorite part is that the neck is slightly open (not a wide neck, but shows more than a traditional crew) so it doesn't feel stuffy. And the fit will definitely accentuate your physique.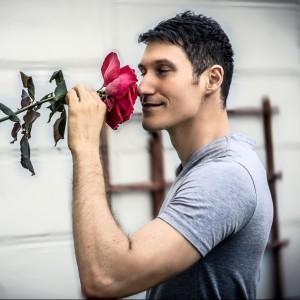 PW
03/25/2022
Peter W.

United States
I recommend this product
nice idea
The shirt is as described: a t shirt but with an interesting lightweight sweater fabric. VERY lightweight, can be worn on a hot summer day no problem. The fit reminds me of a gym-type shirt, elongated front and back length, as well as the sleeve length on the short side to show off arms. The shirt is very slim / form fitting. I am 6'1, 180 lbs and I got a medium.