WESTON JON BOUCHÉR
Quarter-Zip Merino Wool Fitted Sweater
SKU: T0003ALA-5
Finally a Merino Wool sweater that is so lightweight and comfortable that you forget you're wearing wool altogether. Fitted wool sweaters shouldn't be itchy and hot, but instead breathable. Combined with ample stretch and a tailored, modern fit.

FEATURES:
Meticulous attention throughout the sweater pattern to flatter the physique
Moderate curved bottom hem to diminish the tendency of traditional wool sweaters "riding up" and billowing at the hips and waist
Extended trunk length to elongate the body
Lightweight, high grade 50/50 fabric blend with ample stretch
Vegan suede main label and insignia hem label accents

Reinforced collar to preserve and retain the shape over time
SIZING: The current stock of this garment runs slightly big. Model pictured is wearing size LARGE and is 6', 200lbs, and has a 42" chest.

COLORWAYS: Dark Gray † Dark Army † Alabaster

COMPOSITION: 50% Merino Wool † 50% Acrylic
CARE INSTRUCTIONS FOR OPTIMAL PRESERVATION: Lay-flat air dry or hang dry. Utilize rounded edge, velvet design dress hangers to avoid imprints and deformities from the hanger. Shrink factor is moderate. High heat tumble drying is NOT recommended due to the damage and stress it causes on the fabrics. Low heat dryer cycles have much less impact. If you would still prefer a tighter fit after the first hang dry, consider drying on medium heat a single time upon the next wash cycle and then revert back to air dry or low heat cycles from that point on.

SHIPPING: We ship, worldwide!

Customer Reviews
11/26/2021
Romeo O.

United States
I recommend this product
Great sweater just a little too big ..and it's a small!
I'm an Asian guy just average height and weight … the sweater is amazing soft and high quality but just too big… I wish they'll make it in extra small so it compliments my physique … what's 7 days a week of gym if I can't show it off? But overall awesome seater !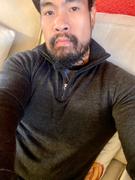 11/06/2021
Craig K.

United States
I recommend this product
Look Good - Feel Good
Beautiful design, fit & finish. It makes me feel I look like Weston Jon Bouchér while wearing it :)
10/21/2021
Dan D.

United States
I recommend this product
Absolutely love it
Excellent fit! Also, this is off topic but have you ever thought making a "scoop" or "elongated" fit t-shirts or Henleys? I'm 6'6 and slender so finding the perfect fit is tough.. I love your brand and the color/fabrics you use! Just curious if you'd ever drop that kind of cut?
10/25/2021
WESTON JON BOUCHÉR
Thank you for the review, Dan! As to your question, YES! The Raw Neck Tee that is currently listed on the site will restock in a couple of months. In addition, I've been designing an incredible textured knit Henley, Crew Neck Pullover, Cardigan and short sleeve sweater that will release before the end of the year. They are all elongated! ;)
05/27/2021
Wade C.

United States
I recommend this product
Staple Sweater
This is such a great sweater that I bought all three colors. I've worn each of them on several occasions and I'm impressed every time. Weston paid great attention to detail on these just as described under "Features" (e.g. curved bottom hem, etc.). They are lightweight, breathable, not itchy, and have great shape retention--and not to mention very flattering! Also, I've washed these and dried them on low and they have held up really well. If you are considering buying this... I would suggest getting all 3! Please keep making these in more colors Weston!
05/23/2021
johno H.

New Zealand
I recommend this product
Absolutely love
So I have used it for a week now. I bought the alabaster medium(I have gone up in size thanks to the gym) abs I received a lot of compliments. The fit is great, lose and just tight enough in the right places. The fabric is great to touch and it keeps me warm in a NZ winter. Fully recommend this product and if your ever in Nz Weston give me a call