WESTON JON BOUCHÉR
The Lightweight Fitted Sweater
SKU: T0002DGY-1
The Lightweight Fitted Sweater luxuriously laces over your body and creates an immediate sense of sophistication and class while feeling weightless and cozy all at the same time. Designed to turn heads with it's stretchy, ultra thin, contouring fabric.
FEATURES:
Meticulous attention to specific sizing throughout the shirt pattern to flatter the physique
Curved bottom hem to curb bunching at the waist and hips
Super soft, lightweight viscose/cotton blend fabric with exceptional stretch range
Scoop neck design to compliment the neck, clavicle, upper sternum and raglan shoulder lines
Vegan Suede Hem Label Insignia
Vegan Suede Main Neck Label
Extended trunk length to elongate the body and fully combat the premature tendency of sweaters shortening in the torso area after wash cycles
Sleeves are fitted to the arm yet stretch perfectly to wear in 3/4 sleeve style as well
Shortsleeve design variant also available
SIZING: Please NOTE that this particular piece will initially feel tight the very first time you put it on, but upon the second wear you will notice that it's increased in size after stretching to your body shape due to the nature of the contouring fabric. All garments are designed to be TRUE TO SIZE but stylistically form-fitting. If you are concerned about a slim fit being too tight, especially in the mid section, consider going up one size. Model pictured is wearing size LARGE and is 6' 1", 195 lbs, and has a 42" chest. Chest measurement is the most relevant factor to consider when selecting your size.
COLORWAYS: Gray † Dark Gray † Black (coming in 2021)

VARIANTS: Longsleeve † Shortsleeve
COMPOSITION: 67% Viscose † 33% Cotton
CARE INSTRUCTIONS FOR OPTIMAL PRESERVATION: Do NOT store this shirt by way of a wardrobe hanger, as the fabric is very reactive to stretch. Store the shirt folded in a drawer to avoid long term hanger effects. Be delicate when pulling the shirt on and off, as the lightweight fabric must be handled gently. After washing, be sure to lay flat and air dry to avoid imprints and deformities from hanging. Shrink factor is minimal. High heat tumble drying is NOT recommended due to the damage and stress it causes on the fabrics. Longer, low heat dryer cycles have much less impact. If you would still prefer a tighter fit after the first hang dry, consider drying on medium heat a single time upon the next wash cycle and then revert back to air dry or low heat cycles from that point on.
SHIPPING: We ship, worldwide!
Customer Reviews
04/05/2021
Chase M.

United States
I recommend this product
Beautiful design / fragile collar
I'm the same size as Jon Bouchér so his IG ad on tailored fit resonated with me. Bought long sleeve and short sleeve sweaters and they are as described, perfect fit. Problem is I ripped or ruined the collars after the one wear. Be super gentle taking on or off :/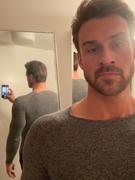 04/06/2021
WESTON JON BOUCHÉR
Hey Chase! Thank you so much for taking the time leave a review. As the owner of a small, new brand, I am involved in every single thing firsthand, no employees but me. That being said, I will get you taken care of right away now that I'm aware of the premature tear you experienced. In this particular run of the sweaters, there was a very tiny percentage of necks that were more delicately stitched than others. I have since worked diligently on insuring that all future production will NOT have this issue and be fully reinforced. As guys can be a bit used to pulling tops on/off with force. Myself included, haha. I greatly appreciate you supporting my brand and will reach out privately right now to get you taken care of for the collar.
03/06/2021
Steve M.

United States
02/16/2021
SANTOS R.

United States
I recommend this product
Superb
Height: 5' 7" / 170 cm Weight: 165 lbs / 74 Kg I purchased a medium and it fits perfectly. I have a slim athletic build and it hugs the upper body well, while tapering down to create a refined look. Easy to dress up or down perfect for all occasions. Huge compliment getter.
02/02/2021
Steve A.

United States
I recommend this product
Lightweight Fitted Sweater
Great feel, great fit & received numerous compliments on it my first night out with it on,
01/26/2021
chris p.

United States
I recommend this product
Great fit, perfect light-weight sweater
The sweater is form fitting - in a good way, and very light weight - meaning it will work well in warmer climates - giving you more opportunities to wear it (and not just in the dead of winter).